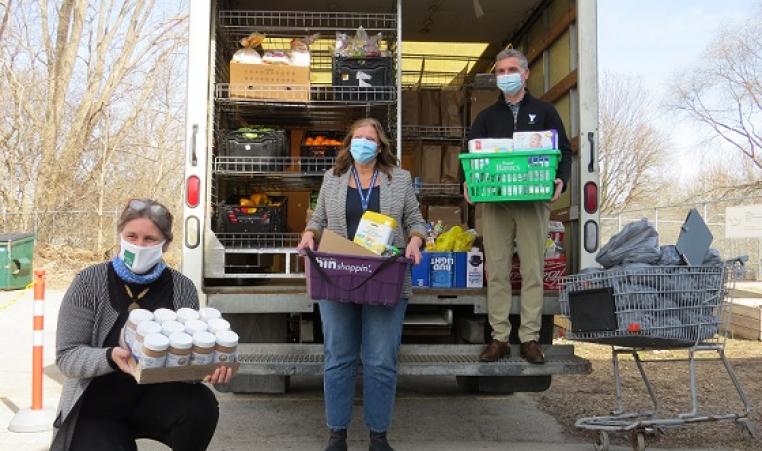 FRIDAY, MARCH 26, 2021
Announcing a new partnership with the London Food Bank

Our YMCA is pleased to help facilitate a program with the London Food Bank where Londoners can pick up food boxes at numerous locations across the city, in addition to the London Food Bank (926 Leathorne Street).
We are excited to welcome and assist community members by offering additional locations to conveniently pick up food boxes:
Participants will call to arrange an appointment based on what day of the week the Food Bank delivers to that branch. This is an appointment-based program with participants picking up their food boxes at a pre-arranged time. Donations to the Food Bank will not be collected at these locations, however, as always, people are welcome to donate to the London Food Bank directly at any time during the year.
This partnership kicked off during the launch of the Food Bank's Spring drive, which is currently in its 34th year. The program will officially start at the four YMCA branches on June 1, 2021.
"The London Food Bank couldn't be more thrilled with this partnership. The Y is a terrific community champion, and they know their neighbourhoods well - something that will be crucial to the Food Bank as it begins the extensive effort of moving food out to various parts of London. The timing is perfect and will help this community in the area of food security as we emerge from COVID-19."
- Glen Pearson, Co-Executive Director, London Food Bank
"It is an incredibly important time for people and organizations to collaborate, and the Y is very excited to partner with the London Food Bank to support the needs of people in our community. As a multi-service charity, we continuously seek opportunities to support our communities in spirit, mind, and body, and this new partnership is a great example of those ongoing efforts."
- Andrew Lockie, CEO, YMCA of Southwestern Ontario