Become a Lifeguard and Swim Instructor
Getting certified is the first step towards working as an aquatics leader. After you have finished your courses, you will be qualified to work at the YMCA (and many other organizations that recognize our Lifesaving Society credentials). Throughout the aquatic leadership courses, you will receive the knowledge you need to guard or teach effectively and you will also have opportunities to increase your leadership, teamwork, and problem-solving skills.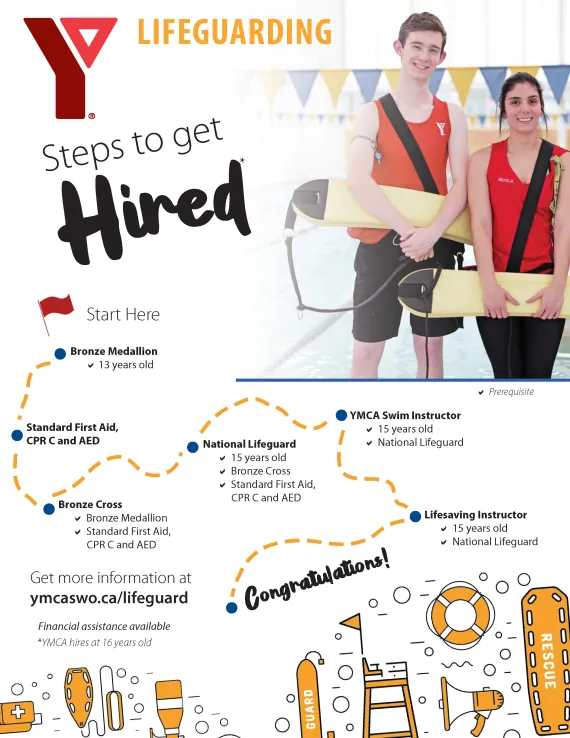 New Fall 2022! The Y is offering courses free of charge to individuals who would like to become a lifeguard and/or swim instructor, but cost is a barrier. Thanks to funding provided by JumpStart, the Y is able to enroll 50 youth to go through the courses needed. Applications are being accepted now until spaces fill up. Contact Denis at denis.giles@swo.ymca.ca for application information.
Our Aquatic Leadership Programs:
Junior Lifeguard Club 
A fun, fast-paced opportunity for swimmers to stay active in the water while learning rescue skills from experienced lifeguard role models. Participants will be tested for and receive their bronze star and bronze medallion - at no extra cost.
Prerequisite: Must be able to swim 25m of the pool continuously.
Bronze Star-LSS 
A lifesaving course designed to prepare participants for Bronze Medallion. Emphasis is placed on rescue drills, personal fitness skills, and victim recognition.
Prerequisite: Ability to swim 25m, tread water for 45 seconds, no age requirement (recommended minimum 12 years of age by end of course).
Bronze Medallion/Emergency First Aid - LSS 
This program teaches an understanding of the lifesaving principles embodied in the four components of water-rescue education: judgment, knowledge, skill, and fitness. Rescuers learn tows and carries, defense methods, and releases in preparation for challenging rescues of increased risk. Lifesavers develop stroke efficiency and endurance in a 400m timed swim.
Prerequisite: Participants must be a minimum of 13 years of age by end of course OR have Bronze Star certification.
This course includes Emergency First Aid with CPR-B, and AED.
Bronze Cross - LSS 
This program starts the transition from lifesaving to lifeguarding and prepares candidates for responsibilities as an assistant Lifeguard.  Candidates will strengthen and expand their lifesaving skills and begin to apply the principles and techniques of active surveillance in aquatic facilities.  Bronze Cross emphasizes the importance of teamwork and communication in preventing and responding to aquatic emergencies.  
Prerequisite is Bronze Medallion and Emergency First Aid with CPR-B or Standard First Aid with CPR-C (need not be current).
Standard First Aid and CPR C – LSS
Standard First Aid provides comprehensive training covering all aspects of first aid and CPR.  Standard First Aid incorporates all of Emergency First Aid and is designed for those who require a more in-depth understanding of first aid including: legal implications of first aid treatment, spinal injuries, heat or cold injuries, bone and joint injuries, chest injuries, and medical emergencies.  Includes CPR-C Certification.
National Lifeguard Pool - LSS 
This course is required to become a certified lifeguard. You learn various lifesaving techniques and take part in practical situations.
This certification is current for 2 years and is recertified by completing a National Lifeguard Recertification Exam.
Prerequisite: Bronze Cross, Current Standard First Aid with CPR 'C', 16 years of age and older. Please note there is an additional charge for the manual.
National Lifeguard Recertification - LSS 
This recertification clinic is for certified NLS lifeguards. You must bring your NLS Card and photo identification to the course, as well as proof of your current Standard First Aid with CPR-C. This is a re-exam situation and involves lifeguarding, first aid, fitness skills and situations.
Swim Instructor - YMCA 
Complete your qualification to teach swimming, lifesaving, and aquatic activities for YMCA L'il Dippers, Learn to Swim, Star, Masters Swimmer, and Adult Programs.
Swim Instructor – LSS
The Lifesaving Society Swim Instructor course prepares the instructor to teach and evaluate the swimming strokes and related skills found in the Lifesaving Society Swim for Life program.  Candidates acquire proven teaching methods, planning skills, and a variety of stroke development drills and correction techniques.
Required References: Swim Instructor Pack (includes Instructor Manual, Swim for Life Award Guide, Teaching Swim for Life and Leadership Binder)
Prerequisites: 15 years of age by the end of the course, Bronze Cross (need not be current)
Lifesaving Instructor – LSS
The Lifesaving Instructor course prepared instructors to teach the Lifesaving Society's Canadian Swim Patrol Program, Bronze Star, Bronze Medallion, Bronze Cross, Lifesaving Fitness, Distinction, CPR-A, CPR-B, CPR-C, Basic and Emergency First Aid.
Required References: Lifesaving Instructor Pack (includes Instructor Manual, Swim Patrol Award Guide, Bronze Medals Award Guide, First Aid Award Guide, Leadership Binder)