YMCA Peace Week: November 13 to 20, 2021
The YMCA believes peace is more than the absence of violence and conflict. Peace is the ongoing work of building and rebuilding conditions of fairness, inclusion, empathy, security, and respect for diversity. When Canadians embody the values of PEACE (Participation, Empathy, Advocacy, Community, Empowerment) through our daily actions, we can build a better Canada.
YMCA Peace Week calls for people to Build Community, Act for Peace.
When we act for peace, together we build stronger and healthier communities.
We cannot expect to live in a world of peace if we are unable to live in peace with those close to us - even those who differ from us...
- YMCA Statement of Peace
YMCA of Southwestern Ontario Peace Medals
Each year, the YMCA of Southwestern Ontario honours local Peacemakers with a YMCA Peace Medal at several community events across the region. While we will be unable to host an in-person ceremony this year, we are still excited to recognize inspiring community members across our association! 
YMCA Peace Medals are presented to individuals or groups who, without any special resources, status, wealth or position, demonstrate a commitment to the values of PEACE through contributions made within their local, national, or global community. 
Since 1987, more than 1,900 individuals and groups across Canada have been recognized for their peacebuilding work with YMCA Peace Medals. When we award YMCA Peace Medals, we celebrate others' contributions to peace.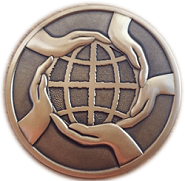 2021 YMCA Peace Medal Recipients
Nolan Petch (Woodstock) 
At only 7 years old, Nolan Petch understands the importance of helping others and teaching others his age (and older) the importance of giving. Nolan started as a Miracle Mission Agent for Children's Hospital in 2020. In his first year he raised $500, his second year he raised $700, and just recently participated in the Children's Hospital Stay Up All Night fundraiser bringing in $3,540 (in which he was the highest fundraiser)! Nearly six months after he lost his cousin to cancer, Nolan is currently organizing a toy drive to help other sick kids and bring some extra cheerfulness to them during the holiday season. His efforts are heartfelt and honour his cousin who was a kind, fun and happy kid that Nolan got to play and spend his days with. Nolan's commitment to helping others is inspiring and helps ensure children receive the best possible care when faced with a life-threatening or life-limiting diagnosis. 
Brian Schoonjans, founder of Miracle Max's Minions (Lambton County)  
A field of sunflowers, planted on the farm of Brian Schoonjans and sons, is a welcome place for families to visit, take pictures, make memories, and collect a bouquet. The inspiration comes from Max Rombouts, a boy that in his 2 short years on earth, stole the hearts of all who had the opportunity to meet him. Unfortunately, Max passed away from Leukemia and the field of sunflowers is a way to honour his memory, collect funds to be given to a charity of Max's parents' choice, and to remember his "bright face that reminded me of sunflowers", says Brian. Recently, $50,000 from Miracle Max's Minions was donated to Childcan which will cover the Childcan Parking Program, with the 'Max Pass', and support Childcan's bereaved sibling program. Brian's heartfelt efforts are supporting children's charities such as Ronald McDonald House and Childcan while helping to keep Max's spirit alive. 
Kevin Allen of Sarnia Blessings (Sarnia)    
Quietly feeding seniors and vulnerable people in the community is what Sarnia Blessings does. Their hope is to provide good, wholesome, homemade meals so that people can stay safe and healthy. Kevin Allen, the lead of Sarnia Blessings, discovered a great need for these services to exist in the community (regardless of the COVID-19 pandemic) and moved forward to meet that need. Kevin and volunteers at Sarnia Blessings, within a year, had cooked over 45,000 portioned meals and arranged free delivery. He is going above and beyond to provide comfort and support to those who are in need. Kevin's commitment and coordination of local churches, service groups, businesses, individuals, and the volunteers at Sarnia Blessings is inspiring.  
Myles Vanni (Sarnia) 
Since 2001, Myles Vanni has acted as an Adult Advisor to seven teams of scouting youth undertaking International Community Development Projects. Groups ranged in size from six to 30 and each project takes about 18-24 months to plan, prepare, and fundraise for. Trip components include living in the villages and working alongside the villagers to help build relationships. Groups also visit schools to provide programs and supplies to children. The outcomes of the projects have provided youth with leadership skills and lasting change in the communities they have travelled to – including building a hurricane shelter and medical clinic in Belize and working on water wells in Uganda. In addition, Myles supports local students by facilitating exchange opportunities and has welcomed international students from many countries. Creating connections from far and near takes effort and dedication, both of which Myles Vanni has successfully achieved.  
Ginny Trepanier of Grace Café (St. Thomas) 
Ginny Trepanier believes that if "life is getting much more difficult, just 'stay the course'. If you have set out to do something, just stay focused, and do it, no matter what." Seven years ago, Ginny had an idea of providing a warm drink and conversation to those that needed it and did just that. That was just the beginning as it led Ginny to opening a soup kitchen for vulnerable people in her community. The first location was in an old laundromat but when the building kept flooding, she temporary moved to another space before settling into the current location – a much bigger space and can serve more people. Ginny is at the soup kitchen six days a week. Her commitment is unwavering and the dedicated volunteers add to that. The Grace Café not only serves warm meals, but provides a warm, safe, and comfortable space for people to connect, tell jokes, and enjoy each other's company. 
The Inn of Windsor (Windsor) 
The Inn of Windsor has been in existence for over 50 years, working with young women who were alone and in need of services. As it exists now, with the ongoing support of agency partners, it is a supportive community-based program that provides an environment promoting healthy development, positive change and continued well-being of youth and their families. The Inn offers individual & group counselling, and programs that support and encourage the youth to achieve basic skills such as proper hygiene, appropriate social skills, cooking and budgeting as they work toward returning home and/or independent living. By learning new skills at the Inn, youth have the potential to be strong contributing members of the community. The Inn teaches and guides youth to promote self-confidence, understanding and acceptance, and by doing so, they see that everyone has something to offer and that no one person is better than the other.  
2020 YMCA Peace Medal Recipients
Camilla McGill (Sarnia)
Community Meal (Ingersoll)
Ella Bice (Parkhill)
Habitat for Humanity Windsor-Essex 
Lindsay Kirkland (Sarnia)
Nicole MacKechnie of Sweet Love Eats (Goderich)
Patrick Armstrong (Goderich)
The London Shoebox Project
Windsor Residence for Young Men