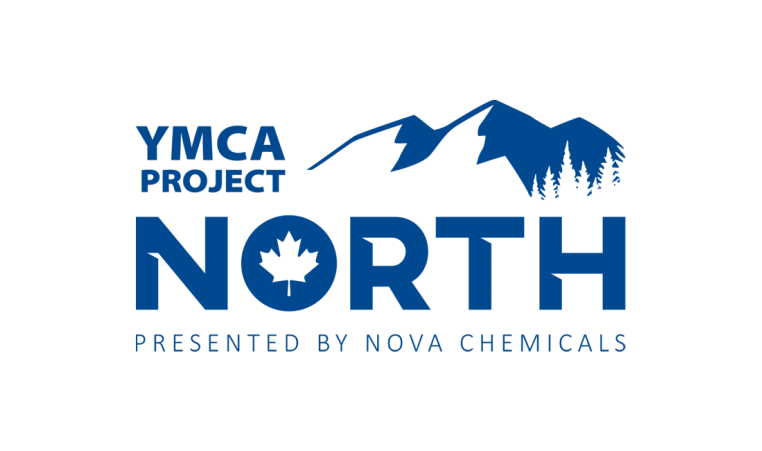 NOVA Chemicals was the lead sponsor of the 2021 'Project North' and 'Leaders of Tomorrow' – an innovative leadership development program that creates change in young lives.  
Designed for both Indigenous and Non-Indigenous youth, and focused on experiential learning, teamwork, and collaboration, Project North's pillars are philanthropy, community service, fitness, and leadership development. For a second year with participants unable to gather for team building and mentorship, and travel to Alberta curtailed – the solution was to run another two-day Virtual Youth Leadership Summit.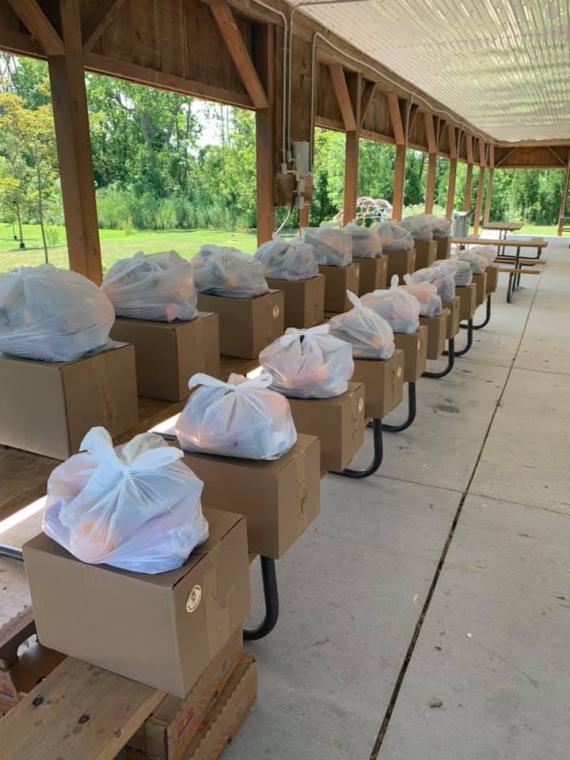 Because of the flexibility of NOVA Chemicals, the Leaders of Tomorrow program funding was redeployed to provide for urgent needs for local First Nations communities, including Aamjiwnaang First Nation, Walpole Island First Nation and Kettle & Stoney Point First Nation. Throughout July and August, 840 kits of non-perishable food, fresh produce, craft supplies, sports equipment, and mental wellness activities were distributed to 140 different families to meet immediate needs and make life a little easier, especially at the height of the pandemic. 
NOVA Chemicals demonstrated their strong commitment to the community by funding these projects and embracing changes to programs impacted by COVID-19. Because of their support many youth were able to experience a unique and valuable personal growth and learning opportunity while giving back to their communities.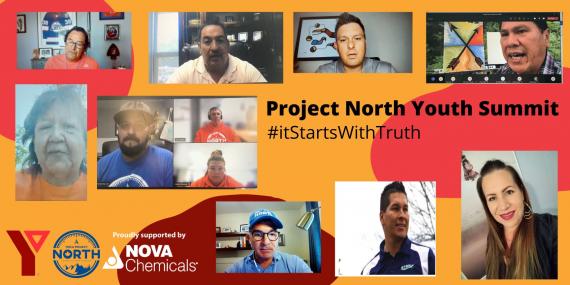 The 2021 Project North: Youth Leadership Summit took place virtually on August 18th and 19th with the theme of #ItStartsWithTruth. The event brought together YMCA staff, community members and 30 youth from across our association, including newcomers, overnight camp and First Nation communities, providing youth the opportunity to learn about the truths of Indigenous Peoples.
The selected participants are youth from all different backgrounds who are interested in becoming better leaders and are willing to commit themselves to developing their own leadership skills, learning about each other, developing an expanded provincial view and giving back to the community through volunteerism and special projects. There are so many different pressures facing young people, especially today, and this project has been designed to help young people realize their own potential, understand that respect and giving to others really matters and that taking responsibility to support the community in which they live makes a difference.  
This project is really about so much more than the two days during the summer - it's about helping to develop our future leaders.  The youth participated in a two-day virtual youth summit where they listened to sessions centered around the histories and truths of Indigenous Peoples in Canada.  Youth participants had the opportunity to hear from special keynote speakers and guest facilitators from our communities, but also from around the country.  
Our Keynote Speakers, guests, and session speakers this year included: 
Chris Plain, Chief of Aamjiwnaang First Nation 
Mike Plain, elder form Aamjiwnaang First Nation 
Peter Dinsdale, President of YMCA Canada 
Andrew Lockie, CEO of YMCA Southwestern Ontario 
Krista Gillespie, VP of Camping and Youth Engagement at the YMCA Southwestern Ontario 
Steve Tooshkenig, Keynote Speakers from Walpole Island First Nation 
Lila Bruyere, originally from Couchiching First Nation and is a Residential school survivor 
Moses Lunham, from the Ojibway/Chippewa Nation in Kettle and Stony Point,  
Jason Simon, Keynote Speaker who is an ex professional NHL Hockey Player and a Personal Trainer who grew up on the Aamjiwnaang First Nation 
Sophie Solares, She is Bear Clan from Aamjiwnaang First Nation who shared Anishinabek teachings 
Tony Jacobs, Program Officer at Right To Play and is also a Councilor in Aamjiwnaang First Nation.