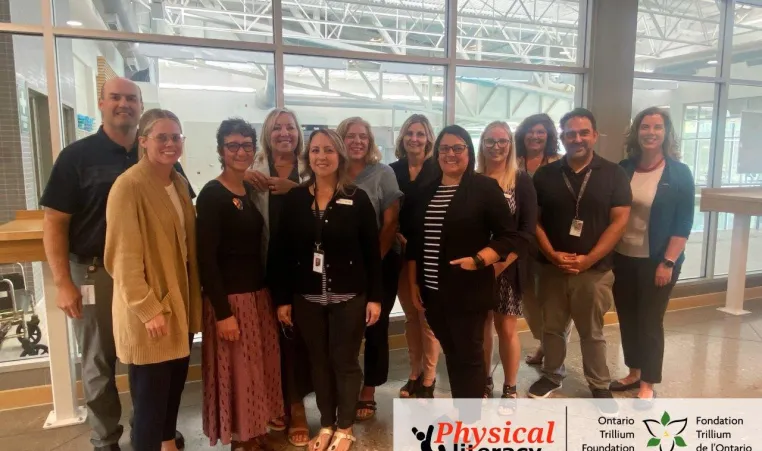 Chatham, ON – On June 7th, local community leaders met with members of the Physical Literacy project team to hear more about the $519,400 Grow Grant the YMCA of Southwestern Ontario received from the Ontario Trillium Foundation (OTF) that has facilitated the development of a multi-sector action plan regarding physical literacy in Chatham-Kent.  
 
"I extend my sincere appreciation to all those who have played a vital role in transforming this visionary grant into a tangible reality, as it underscores the significance of placing the well-being of our community members at the forefront," expressed Trevor Jones, MPP for Chatham-Kent-Leamington. "Physical literacy stands as a fundamental pillar in fostering the cultivation of healthy habits and enhancing overall physical and mental well-being. This initiative will serve as an influential catalyst in fostering the adoption of more active lifestyles and will undoubtedly leave an enduring imprint on the overall quality of life in Chatham-Kent."
 
The project will be completed this year and will have trained over 800 community leaders in best practice tools and techniques to foster physical literacy in children and youth. Physical literacy is formally defined as the "motivation, confidence, physical competence, knowledge and understanding to value and take responsibility for engagement in physical activities for life."
 
"As a result of providing training and mentoring to teachers, coaches, instructors, health practitioners and recreation staff, key leaders now have the knowledge to develop the movement skills of our young people", said Andrew Lockie, CEO of YMCA of Southwestern Ontario. 
 
This project has brought multiple sectors together to create a community where people understand, value, and develop physical literacy, and participate in physical activity that supports their well-being.  Training and mentorship have taken place in schools within the Lambton Kent District School Board and St. Clair Catholic District School Board; Municipality of Chatham-Kent's Public Health Unit, Department of Child Care and Early Years and Recreation Services; as well as the YMCA of Southwestern Ontario.  Sport for Life has been instrumental in connecting the project team with training expertise in this field. 
 
Building capacity in Chatham-Kent for those working with children and youth and connecting sectors for more coordinated program design, has increased the knowledge, and understanding of how physical literacy impacts an individual's level of participation in physical activity, recreation, and sport. This would not have been possible without the generous support of the Ontario Trillium Foundation and this grant. 
 
The Ontario Trillium Foundation (OTF), an agency of the Government of Ontario, and one of Canada's leading granting foundations celebrates 40 years of grant-making in Ontario and making a lasting impact in communities. Last year, OTF invested over $110M into 1,022 community projects and partnerships, which included funding for the Government of Ontario's Community Building Fund. Visit otf.ca to learn more.
For further information, please contact:  
Elyse Sheare, Vice-President Marketing & Communications
YMCA of Southwestern Ontario
519-636-3700
Email
 
 
The project stakeholders are committed to continuing to develop these skills beyond the life of this grant. If you wish to learn more about this initiative, please visit the website at: https://physicalliteracyck.com/