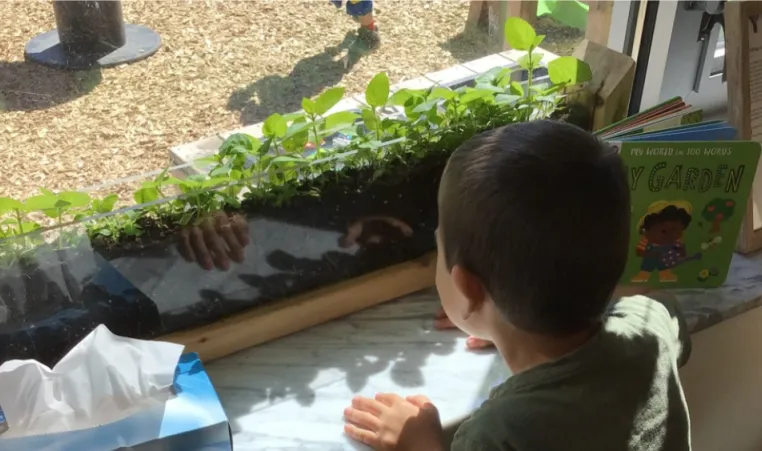 WEDNESDAY, JULY 27, 2022
Indian Creek Child Care Centre garden project connects children to nature.
When opening our new Indian Creek YMCA Child Care Centre location in Chatham, Child Care Director Elizabeth De Santis had a vision: she pictured gardens in all the playground yards outside. When the opportunity to apply for funding from the YMCA Foundation arrived, it was the perfect chance to make this dream a reality.
"I had a vision of children having this magical space to play in, full of living things and the ability to experience food from garden to table."
The foundation took a leap of faith and granted $5,000 towards the Indian Creek garden project! At the same time, another opportunity arose when their child care centre was selected to be the first Learning and Teaching Hub for the YMCA of Southwestern Ontario's Outdoor Play project. 
Elizabeth also worked with St. Clair College to offer opportunities for students to observe outdoor play in a natural environment. Another important partnership was formed with local farmer Chris, a former Y staff member whose company KAIYA Farms generously donated all the plants needed to get the garden started.
"Our gardens have turned out better than I could have imagined. Although we are at the start of this journey, it makes me so happy to walk and observe infants watering the plants independently or going to the preschool playground and be shown updates on our cucumbers and their growth."
The children and staff at Indian Creek have been able to enjoy the fruits of their labour at the centre while also sharing with child care families, continuing the conversation about the benefits of outdoor play in early childhood development. Elizabeth credits her amazing team and their hard work for bringing the project to life, along with the generous financial support of the YMCA Foundation.