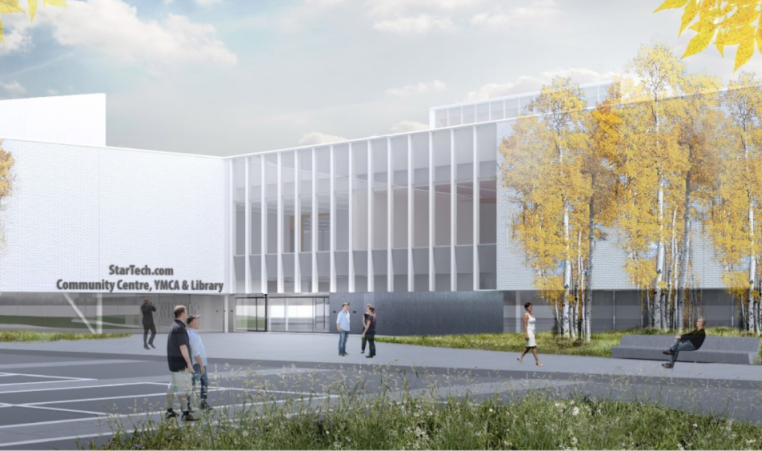 WEDNESDAY, JUNE 15, 2022
StarTech.com to strengthen community connections with $1.5M naming sponsorship of local YMCA
Today StarTech.com and the YMCA of Southwestern Ontario, joined by the facility partners from the City of London and the London Public Library, announced a $1.5M sponsorship to the YMCA by StarTech.com to rename the community recreation facility on Southdale Road West, currently known as Bostwick Community Centre, YMCA, & Library, to StarTech.com Community Centre, YMCA, & Library.
The 15-year sponsorship agreement will see StarTech.com help the YMCA and its partners to strengthen the connections that are key to community health and wellness, said CEO Paul Seed.
"StarTech.com is passionate about supporting the community and we believe it drives our success. Since our founding as a small London startup in 1985, we've grown to have operations across 23 countries worldwide, and the company and its employees have supported many charitable and non-profit organizations along the way. We are particularly proud to sponsor the YMCA right here in London, StarTech.com's hometown," said Seed. "StarTech.com is committed to enable and build an even healthier, stronger and united London, for this generation and the next."
Shared focus and values is precisely what makes StarTech.com and the YMCA such a great fit as partners, said YMCA CEO, Andrew Lockie.
"In the same way that StarTech.com is so much more than a provider of IT connectivity accessories, the YMCA is so much more than a place to exercise. This sponsorship represents a connection between two organizations who care deeply about community and believe in innovation to improve lives and strengthen futures," said Lockie. "We are proud of this partnership and so grateful for StarTech.com's commitment to support our mission to build healthy, strong, and inclusive communities."
Strong communities are ones where no individual or family is left behind, added Mayor Ed Holder, which makes the support that much more meaningful as London, like all communities, grapples with the pandemic and plans for recovery. 
"Although many of the social issues we are seeing pre-date the pandemic, now more than ever we need to ensure equal access to health and wellness, to help people to rebuild connections, confidence, and a sense of belonging," confirmed Holder. "This partnership will help our community do exactly that."
"Our community benefits greatly from collaborations like this," shares Library Board Chair, Brain Gibson. "This facility fosters strong connections in those who visit and in those who work in these spaces. We witness this daily on the faces and in the comments of our visitors, who need a facility like this more than ever."
The facility is jointly operated by the YMCA and London Public Library, under an agreement with the City of London, and includes a public library, twin-pad arena, walking track, community kitchen, and two swimming pools. It offers a range of programs and services for YMCA members and the general public.
Funds will be used towards the highest priority programs and services which will evolve over time based on community needs. This includes a key focus on the Y's charitable mission to be open to all regardless of ability to pay. Each year 35% of YMCA members are subsidized to participate in its programs and services.