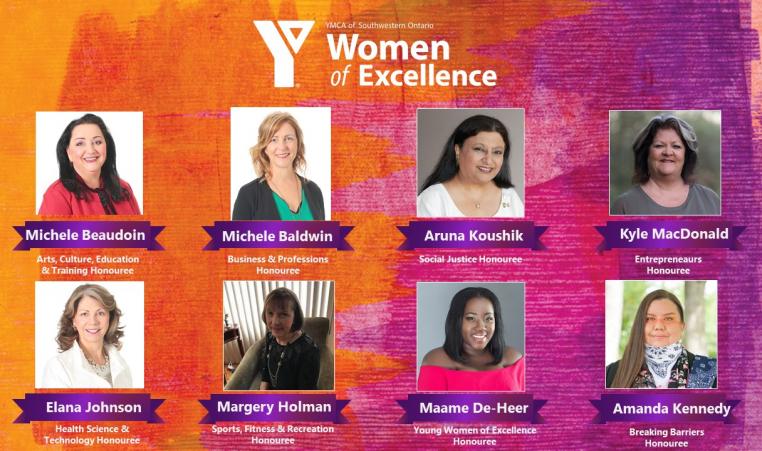 THURSDAY, FEBRUARY 25, 2021
Announcing the 2021 YMCA Women of Excellence Honourees, Presented by BMO.

The YMCA of Southwestern Ontario announced the 8 Honourees being recognized as the 2021 Women of Excellence. Congratulations to the 2021 Honourees!
Michele Beaudoin (Arts, Culture, Education & Training) is recognized as a champion in higher education for her advocacy work and empowerment of future leaders, and as a driver for change through her extensive contributions in community service.
Michelle Baldwin (Business & Professions) is recognized for her commitment as a social innovator and community connector. she is congratulated as a change-maker and sought after nationally for her visionary leadership.
Amanda Kennedy (Breaking Barriers) is recognized as an innovative educator and leader, bringing people and communities together in the spirit of healing, truth, and reconciliation, and creating spaces and opportunities for Indigenous youth and women to thrive.
Aruna Koushik (Social Justice) is recognized as a skilled and effective human rights advocate, a catalyst for positive impact locally, nationally, and internationally, and lives by the responsibility to leave our world a better place. 
Kyle MacDonald (Entrepreneurs) is recognized as a powerful example for female entrepreneurs shattering barriers in the tech industry, revolutionizing self-service banking, and for her commitment as a mentor and employer to hundreds. 
Elana Johnson (Health, Science & Technology) is recognized for her leadership in midwifery, gaining official recognition for the profession under the Regulated Health Professions Act, and her ongoing community efforts to improve the lives of children and youth.
Dr. Margery Holman (Sport, Fitness & Recreation) is recognized as a trailblazer in Sport as a coach, official, and academic. She has been called on nationally and internationally for her expertise and advocacy regarding challenges and opportunities for women in this field. 
Maame De-Heer (Young Woman of Excellence) is recognized for her commitment, achievement, and leadership in providing young women in low-income settings with the tools for success, as well as serving as a role model for many young Black women. 
The recipients will be honoured at the YMCA Women of Excellence Virtual Gala on May 19. Over the past 37 years, the YMCA has celebrated the achievements of 120 women who have made outstanding contributions in the fields of arts, business, education, sport, and science and new this year we are excited to recognize women in the categories of Breaking Barriers and Social Justice. Each of the women embodies excellence in their field to the highest degree, and the Y's belief in the development of spirit, mind, and body, as well as service to others.
The YMCA of Southwestern Ontario will select 80 young women to be part of the Young Women of Excellence program, allowing access to the virtual gala free of charge.
Tickets for the virtual gala are $75/single access with exciting options for viewing parties and experiential add-ons. Proceeds from the event will support the YMCA's Strong Kids program which helps ensure every child can enjoy the summer camp experience and provides access to our programs and services for children, adults, seniors, and families.