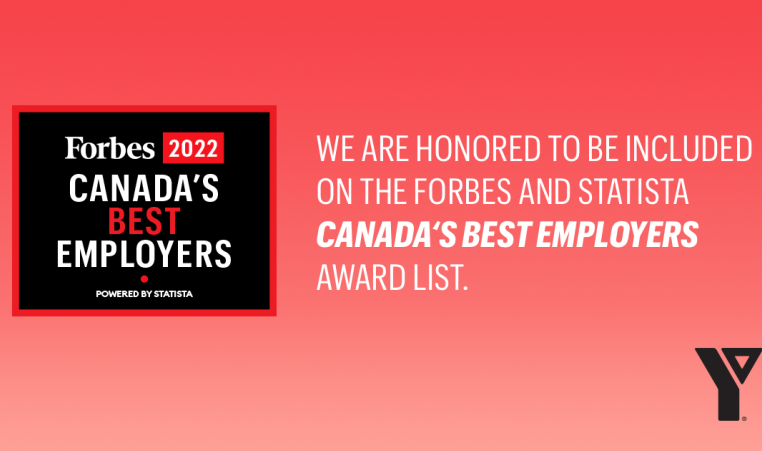 Wednesday, February 16, 2022.
Forbes announces the YMCA as one of Canada's Best Employers 2022.
We are thrilled to announce the YMCA has been recognized on Forbes' list of Canada's Best Employers 2022! Forbes recently released its annual list, including YMCAs in Canada in the Healthcare & Social sector.
The internationally renowned business magazine partnered with market research firm Statista to compile the list of 300 employers by surveying more than 10,000 Canadians working for businesses with at least 500 employees. The respondents were asked to rate how likely they would be to recommend their employer to others and to nominate other organizations than their own. Key factors distinguishing Canadian employers include corporate social responsibility and the creation of an inclusive culture.
"The YMCA has always been a place for meaningful work experiences, not only because of the opportunities we offer, but because of why we're here. When you measure success by how many people you have helped, it adds a deep sense of purpose to what you're doing. By striving to improve our employee experience, we have all made the YMCA a great place to work while doing great work in the communities we serve." - Andrew Lockie, CEO, YMCA of Southwestern Ontario.
With our mission to create opportunities for everyone to grow in spirit, mind, and body regardless of background, belief or ability, and a focus on creating a strong and inclusive work culture based on our core values (Caring, Honesty, Respect, Responsibility, Inclusiveness), YMCAs across Canada are proud to be recognized with this distinction.
Discover the benefits of working with the Y and browse our current opportunities.