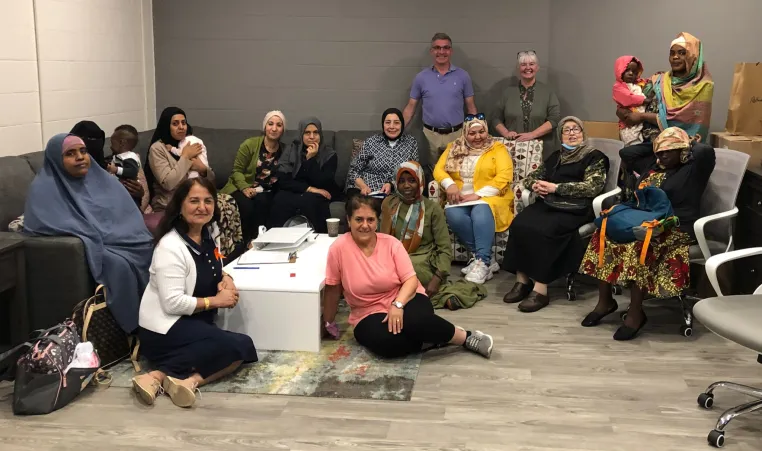 THURSDAY, DECEMBER 1, 2022
Newcomer Group brings women together to connect & build new relationships in Canada.
Our Y facilitates a weekly women's group for newcomers to Canada, which has been running successfully for over 12 years at the YMCA Windsor Learning Centre. Funded by the IRCC, the group's focus is to share local updates and newcomer settlement-related news, but it has grown to do so much more, creating a strong sense of community and belonging.
Since the reopening of our YMCA office during the pandemic, the women's group is delivered through a hybrid model with digital accessibility to include as many newcomer women as possible. It provides a time and place for women to connect, fight loneliness and work on small projects (like arts and crafts) while discovering shared interests and talents. The group also works together to plan activities for events such as International Women's Day.
Participants are always eager to learn more about life in Canada - employment, recreation, education, and parenting - and are invited to lead discussions and present to their peers. As they come from all backgrounds and speak different languages, volunteers help everyone communicate with interpretation. A volunteer mental health counsellor is regularly available to address barriers and coping strategies for settling into a new country.
Many women over the ears have found a sense of belonging and resiliency through the Newcomer Women's Group. This lasting program proves that consistency is key to supporting settlement and helping newcomers build reliable social networks. 
#WhyTheY
Pictured: Andrew Lockie, CEO, and Jacquie Rumiel, VP Newcomer & Community Services visit the Newcomer Women's Group at the YMCA Windsor Learning Centre.