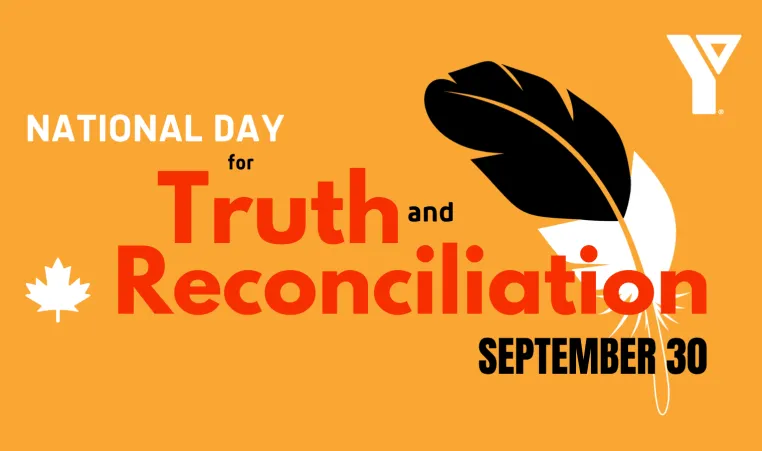 FRIDAY, SEPTEMBER 30, 2022
YMCA Statement for National Day for Truth and Reconciliation and Orange Shirt Day 2022
The Indian Residential School Survivor's Society is available to survivors and their families at any time. Please call 1-800-721-0066 or 1-866-925-4419 to access the 24-7 crisis line. You can find additional support via the First Nations and Inuit HopeForWellness.ca Help Line at 1-855-242-3310. First Nations, Inuit, and Métis youth can text 686868 for access to Indigenous volunteer crisis responders (via Crisis Text Line powered by Kids Help Phone) and adults can access this same service by messaging 741741.
Today, on National Day for Truth and Reconciliation, which coincides with Orange Shirt Day, YMCAs in Canada reflect on our responsibilities as treaty people with respect to the devastating legacy of the residential school system.
Since 2021, the uncovering of unmarked graves at the sites of former residential schools has brought widespread attention to what many First Nations, Métis, and Inuit people already knew: thousands of Indigenous children perished and were harmed in the Canadian Indian residential school system. The graves raised many questions about how a society takes responsibility for the suffering inflicted by its own institutions upon vulnerable children.
YMCA Canada recognizes that reconciliation is an ongoing process, and everyone must be an active participant. This past year it was identified that Indigenous people are under-represented on the national board of directors and a recruitment process has been initiated to change this. To mark National Day for Truth and Reconciliation and Orange Shirt Day, YMCA Canada held webinars this month that amplified Indigenous voices, as we all continue to explore how we can meaningfully advance our truth and reconciliation journey.
YMCA Canada has announced a donation of $38,896 to the Orange Shirt Society on behalf of YMCAs in Canada. This donation comes from the net proceeds of sales of YMCA Orange Shirt Day t-shirts across the Canadian YMCA Federation. At many YMCAs today, staff will be wearing these t-shirts to raise awareness of Orange Shirt Day and all the pain and hope it represents. We are proud to have had special permission from the Orange Shirt Society to use their official 2022 design.
The YMCA of Southwestern Ontario is proud of the work we've done in addressing some of the Calls to Action and has committed to continue to strengthen the relationships with our Indigenous Peoples. We are doing this through our YMCA's programs, projects, services, and committee work.
"Truth and Reconciliation is an important opportunity for Canadians to strengthen their foundation for learning about our history, and use those lessons to consciously and deliberately grow equality and justice for Indigenous people into our future." - Andrew Lockie, CEO
"Every year when I see the orange shirts all around I see hope. I see what my ancestors could only dream of. A Canada where Indigenous people are accepted and the truth of the residential schools is now spoken. When I feel the support of my colleagues and everyone in the Y family I understand the power of having allies." - Marilyn Himbury, Ojibwe-Anishinaabeg, VP, Risk Management & IT
"This is an opportunity for learning together about the truth and acting together in reconciliation. We all have a responsibility on this particular day, and every day, to take time to listen with open hearts and open minds to learn from the survivors of residential schools." - Soyuth Sok, VP Health, Fitness & Aquatics
The YMCA continues our path to deepen our understanding of the ongoing effects of residential schools and how we can act in solidarity with Indigenous communities. Where ever you are on your path, we hope today you take another step forward toward being an active participant in reconciliation.
Resources: